LOCO COCO MOCHA-As Seen On The "Today Show"
2013-05-16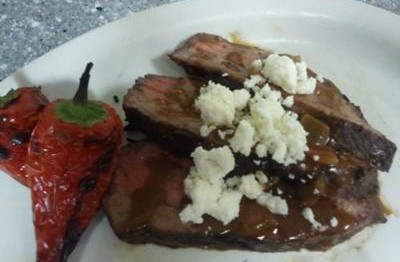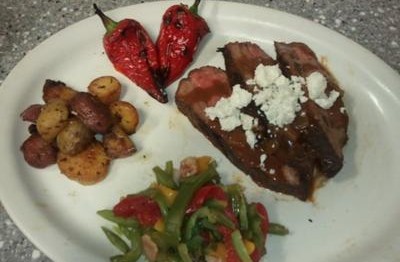 Servings :

5

Prep Time :

45m

Cook Time :

1:15 h

Ready In :

2:0 h
Submitted by Jamelle Gibbs, Matt Jackson, Steve Seeba
(West Covina Fire Dept.)
Ingredients
1 ½-2 lb Tri-tip(fat trimmed)
Cotija Cheese
Green and red Jalapenos
(For the Rub)
4 Tbsp cocoa - unsweetened
4 Tbsp coffee, instant coffee
4 Tbsp brown sugar
1 Tbsp cumin
1 Tbsp Oregano
½ Tbsp Thyme
1 tsp Garlic Salt
2 tsp cayenne pepper
5 tsp kosher salt
(FOR THE SAUCE)
3 tbsp olive oil
1-2 medium brown onions (finely diced)
6 cloves of garlic (1 head) minced
1/2 tbsp dried oregano
1/2 tbsp ground cumin
1/2 tsp cinnamon
1/4 cup flour
2 Tbsp Chili Powder
7 cups stock (chicken)
3 oz semisweet chocolate
Method
Step 1
Lightly tenderize your tri-tip
Step 2
Liberally cover the tri-tip with your rub and let sit at room temperature for 2 hours.
Step 3
Preheat your BBQ to 500 degrees
Step 4
Sear your tri-tip on each side for 1 minute.
Step 5
Decrease the temperature of your BBQ to 275
Step 6
Place Heavy gage aluminum foil on your BBQ.
Step 7
Place the tri-tip, fat side down on the foil for 30 minutes
Step 8
Flip you tri-tip over with fat side up and cook for an additional 15-20
Step 9
During the process, continue to check the tri-tip so that it is served medium rare at center.
Step 10
PREPARING THE SAUCE (40 MIN)
Step 11
For the sauce: In a large stock pot, sauté onion in oil until tender.
Step 12
Add garlic, oregano, cumin, cinnamon; sauté together for a few minutes
Step 13
Combine flour and chili powder; Stir into pan, coating onion mixture
Step 14
Slowly whisk in stock; reduce until sauce thickens. Whisking frequently (this will take about 30 minutes).
Step 15
Stir in semisweet chocolate until melted.
Step 16
Slice the tri-tip into ¼ inch pieces.
Step 17
Pour sauce over tri-tip
Step 18
Sprinkle a light to moderate amount of cotija cheese over the top of the sauce.
Step 19
Lightly Grill the jalapenos and add as garnish around the tri-tip